Learn About the Latest Furniture Sale Here
Shop, Donate, Support!
You'll find an incredible selection of retro chic items! All proceeds from our furniture auctions and sales benefit the life-changing programs of CARITAS.
Why do we sell or auction furniture?
We love to share a wide variety of items such as section sofas, collectibles, dining furniture, art, books, mirrors, and more at bargain prices. Shoppers get a great deal, and CARITAS uses the proceeds to serve more of our most vulnerable neighbors.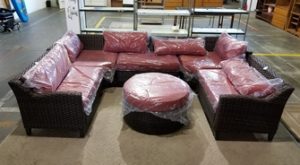 Items end up in one of our sales or auctions because Furniture Bank clients don't need them or can't use them. Before our sales and auctions, CARITAS disposed of these items or gave them away to other organizations to sell. We never sell essential items our clients can use. That is our commitment to our clients and our supporters. The proceeds from the nonessential items that we do sell go directly to supporting the mission of CARITAS. Therefore, the sale of nonessential items in our Marketplace still directly benefits the clients.
Learn More About the Latest Sale Here
The Latest Sale:
You can always follow our partners Curtain Call to learn about up-to-date sale announcements and items! They showcase and preview items regularly leading up to our big sales! As always, a portion of the proceeds support our mission to end homelessness and addiction in our community.
Start shopping on Facebook.
Sale Dates:
Saturday, December 5, 9 a.m. – 3 p.m. 
Sunday, December 6, 9 a.m. – 3 p.m. (Items will be 50% off!)
Location Information:
Warehouse 6
1108 Gordon Avenue, Richmond, VA
More Info:
Bring your own boxes, packaging materials, and assistance in loading your items. We cannot assist you in loading your items. Deliver is available for a nominal fee. For more questions, email
curtaincallrichmond@gmail.com
.
Donate To the Marketplace
If you have treasures you no longer use, you can donate them to CARITAS  where they will be sold or auctioned to raise critical funds to help end homelessness and addiction. We are looking for unique and high-end items, antiques, paintings, vintage furniture and jewelry.
All of your donations will be tax-deductible.