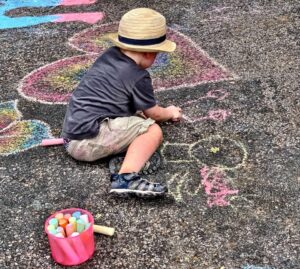 This September, Robin Cage will celebrate a special anniversary: 30 years of bringing the magic of the 43rd Street Festival of the Arts to our community.
"We started the festival as a way to showcase local artisans and bring folks into the Forest Hill Neighborhood," she says. "After we got the first show underway, we wanted it to be a benefit for a local organization."
Homelessness was a cause Robin deeply cared about. The owner of the 43rd Street Art Gallery and an award-winning potter, she volunteered with the Empty Bowl Project, making bowls for a soup kitchen to raise money and awareness for the homeless. In 2013, Robin and her fellow artists learned about the CARITAS emergency shelter.
"I was impressed with its focus on providing food, shelter and a pathway back to self-sufficiency," she says.
The 30-year old festival features more than 60 artists, food vendors, a raffle, and a juried arts show that fill the streets of the southside community. For the past eight years, more than 5,000 annual attendees help raise important funds for CARITAS.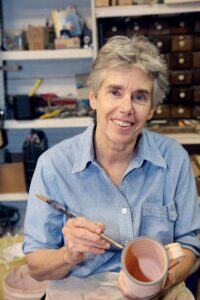 "We are proud to have raised more than $100,000 to care for those less fortunate than ourselves," Robin says.
Only two instances put a pause on the show — Hurricane Florence in 2018 and the COVID-19 pandemic in 2020. Artists, like those who attend the festival, were among the professionals most impacted by the pandemic.
"The 43rd Street Gallery is glad to still be standing," Robin says. "We hope folks will come in droves to buy art, support CARITAS, and enjoy being out and about again with friends and neighbors."
Due to the significance of 9/11 and the loss of life from COVID-19, the festival will provide a moment of silence for those who died from those events. In addition, to allow for social distancing, the show will be a bit smaller and no musical acts will perform.
The 30th annual 43rd Street Festival of the Arts will take place on September 11 near Forest Hill Avenue and 43rd Street. It is free to attend. Learn more at www.43rdstgallery.com.