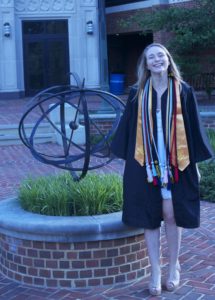 Anna Walker
Title: Mentoring & Volunteer Coordinator
What That Means: It means I work alongside volunteers and community partners to organize service within the multiple CARITAS programs, such as sorting items for distribution in the Furniture Bank Warehouse or facilitating furniture drives with local congregations! You can also find me teaching new volunteers about our organization, managing our In-Kind donations, and repping CARITAS on the weekends at festivals and furniture builds.
Background: I am a recent graduate of the University of Richmond studying both Biology and Religious Studies. I am a Richmond native and went to school in Chesterfield County throughout elementary to high school. I found my passion for service and non-profit leadership through The SEEDS Project, an alternative spring break program at UR where I led the service learning trip to West Virginia my senior year!
Hobbies & Interests: I absolutely love the outdoors and traveling! In my free time, you can find me going on hikes in the Blue Ridge Mountains, or speeding away on a weekend adventure to New York! I also play rugby and enjoy going for runs while listening to NPR podcasts.
I Most Want To Visit: I've always been intrigued by Jerusalem, but after studying religions in my undergraduate career I had a new appreciation for the city with its ties to all three Abrahamic faiths, and I hope to visit soon!
Favorite Place I've Lived: My freshman year of college I attended Lee University in Cleveland, TN located right outside of Chattanooga so I was surrounded by beautiful mountains and rivers (that I didn't take advantage of at the time) I would love to one day live closer to the mountains so I could hike and enjoy the outdoors.
I Can't Live Without: My family. They are my support system in everything I do, whether it is taking a break from school to become an Americorps member, or when I crazily decided to play rugby! No matter the situation, they encourage me to do my best and are along for the ride.
Best Part of My Service Position: Working alongside my wonderful and compassionate co-workers and volunteers who do everything they can to bring strength and dignity back into our beautiful community!