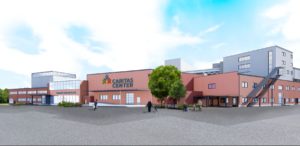 CARITAS leaders and volunteers are pleased to announce our plans to build a new center in South Richmond and will begin construction in early 2018. During a December 5th event, CARITAS honored initial donors who have already contributed to its $14 million capital campaign for the CARITAS Center.
The cornerstone of the new center is The Healing Place for Women, which will offer long-term peer-to-peer recovery services at no cost to women in the Richmond area. CARITAS has offered recovery services to men at The Healing Place for 12 years.
"The Healing Place has helped more than 10,000 men find a path to recovery," said Patte Koval, Chair of the Jenkins Foundation Board of Directors. "Based on this historical success, we're confident that CARITAS and the community are ready for a complimentary program for women."
The Jenkins Foundation provided the lead gift of $1 million to The Healing Place for Men in 2003 and committed $1 million to the planned CARITAS Center's recovery program for women. They join a list of other Richmond area foundations, corporations and individuals who have contributed a current total of $10.5 million.
Top donors include:
The Cabell Foundation
The Goodwin Family
Jenkins Foundation
Connie & Chip Lacy
Kathie & Steve Markel
The Mary Morton Parsons Foundation
Brenda & Dan Walker
The new center will also consolidate three of CARITAS's programs under one roof: the Shelter, the Furniture Bank, and the Works program.
"We are very excited to include 47 sober-living apartments in this project, which will have huge impact in our community." said CARITAS CEO Karen Stanley.  "We also know that women in Richmond need our services now more than ever."
See more photos from the event on Facebook here.
Questions about the center and donations can be directed to CARITAS CEO Karen Stanley at cc@caritasva.org. 
Be on the lookout for a web page dedicated to the new center, its progress, and the impact on the community.