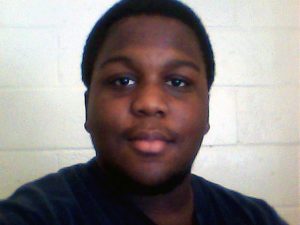 Montel is an only child raised solely by his mother who relied on child support to remain stable. When Montel turned 18, his mother lost this financial support she relied on so heavily.  Shortly after his birthday, Montel became homeless.
Montel and his mother found their way to the Commonwealth Catholic Charities Homeless Point of Entry and were referred to the CARITAS Shelter. CARITAS was the only organization in the city at the time that allowed teenage boys to stay with their mothers in the shelter program. While in the care of CARITAS staff members and volunteers, Montel soon found hope and a renewed vision for his future.
When CARITAS Senior Case Manager Carolyn Leung first encouraged Montel to consider applying to college, the prospect seemed impossible to him.  Carolyn helped Montel learn more about colleges in the area and helped him fill out the complicated FAFSA  (Free Application for Federal Student Aid) form.
Montel was accepted to Virginia State University and received federal aid to attend. Thanks to donations from CARITAS staff, volunteers, and other partners, Montel was also able to pay for the deposit for his room and board and his book fees without any worry.
Montel will graduate from VSU this December with a degree in psychology. But he is not stopping there. He plans to continue his education at VSU to receive his master's degree in psychology and ultimately his PhD.
"He has blossomed into a person with confidence," Carolyn said. "He wants to work to understand how to help people and make a mark on the community in a way that gives back."
We are so proud of Montel and grateful for everyone who has touched his life through CARITAS and elsewhere. Thank you for helping us transform a life.