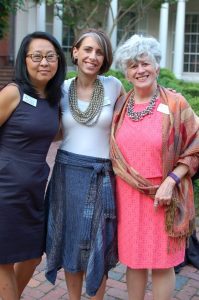 Last year, CARITAS reached more than 5,000 people in our community with shelter, case management, job training, recovery services, and furniture. Each year that number grows. Our talented, driven, and expert staff are always working behind the scenes to make that possible.
Earlier this spring, CARITAS was honored as the 
one of the best small businesses to work for
in the Richmond community. We are so thrilled to have received this recognition for another year. Our staff members are truly driven to serve Richmond. Many have specialized degrees and certifications that help CARITAS solve the biggest problems facing our community. They continue to invest their time and resources in their personal and professional development so they can continue to help our neighbors at an even greater capacity. We've rounded up a few of their degrees and certifications here so you can learn more about their expertise and why they deserve an award all their own. We have a large staff, so this is just a sampling! We also asked by they love working at CARITAS…
Allie Cornell, Single Adult Program Clinician for CARITAS Shelter
Education: Allie has a Bachelor's in Social Work from James Madison University, a Master's degree in Social Work from Virginia Commonwealth University (VCU), and she is currently working to become a Licensed Clinical Social Worker.
Why do you love working at CARITAS? I love working at CARITAS because no day is ever the same; each day I am presented with new challenges and situations to help me grow professionally and personally. I love working with people and the work that we do is important and meaningful. I also love the feel of family at CARITAS; we all truly care about each other.
Anna Hardin, Director of Shelter Operations
Education:  Anna is a Licensed Clinical Social Worker with a Bachelor of Science from Longwood College and a Master of Social Work degree from VCU.
Why do you love working at CARITAS?
 I love that we are a small agency that is doing big things. I love that every day is different and that my team pours their hearts into their work. I love that we see change and that we impact the clients that we work with. I love that we are working to end homelessness in Richmond every single day.

Carolyn Leung, Senior Case Manager for CARITAS Shelter
Education: Carolyn has a Bachelor's in Health Sciences from Old Dominion University, a Licensed Practical Nurse degree from  J. Sargeant Reynolds Community College and she is currently pursuing a Master of Science degree in Addiction Studies and Virginia Commonwealth University. She's in her final course!
Carolyn is also a  Certified Substance Abuse Counselor and is working towards her License Substance Abuse Treatment Provider certification.
Why do you love working at CARITAS? I love my work because I believe in community and family.  I believe that we are responsible to our neighbors and family and to be there for each other in times of need.  I love working for CARITAS because I am aligned with its values and mission.
Cara Kaufman, Director of Development
Education:  Cara has a Bachelor's in Political Science from Longwood University  and earned a Masters in Urban & Regional Planning from VCU.
Why do you love working at CARITAS? CARITAS is a great place to work because we are assisting folks in genuine need of help and we can see the change we make both at the individual level as well as in our community.
Al Jackson, Program Director of The Healing Place
Education: Al has a Bachelor's in Political Science and History from Western Kentucky University and is also a certified Alcohol and Drug Counselor in both Kentucky and Virginia.
Why do you love your work at CARITAS: I love this work because I'm doing God's work and I am able to see lives and families being restored.
Marilyn Milio, Program Manager of CARITAS Works
Education: Marilyn has a Bachelor's in Special Education from New Jersey City University, which includes a  "Teacher of the Handicapped" Certification. Marilyn is also a Certified Professional Recovery Coach and a Certified Professional Coach.
Why

you

love your work at CARITAS?
 CARITAS is focused on providing solutions that work and is truly a mission driven organization.  This is a happy workplace that cares about staff, clients, volunteers and family.
Karen O'Brien, Chief Operations Officer
Education: Karen has a Bachelor's in Business Administration and Math  from Harwick College and is working towards her Mini MBA  from the University of Richmond Executive Education program. Karen is also a graduate of the Bank of America Neighborhood Excellence Leadership Program. 
Why do 

you

love your work at CARITAS? 
The people are real, the work is vital and the vision is extraordinary. CARITAS is a community collaborator and that suits my personal values perfectly. I love helping people.
Stephen Vicoli, Transitional Coordinator at The Healing Place

Education: Stephen is a Certified Peer Recovery Specialist through Substance Abuse and Addiction Recovery Alliance (SAARA) of Virginia, Inc. Stephen is also certified to Recovery Dynamics, which is applied throughout The Healing Place recovery program.
Why do you love your work at CARITAS? My work at is as challenging as it is rewarding. The fact that my life experiences can help others have new experiences is a special thing. CARITAS and my co-workers have welcomed me and supported my recovery since 2011. For that I am grateful.