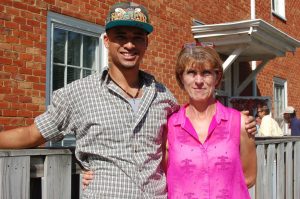 "Jordan is a brilliant 21 year old, who is one of the hardest working and most caring people a person could meet," says mother Laurie.
Like many moms, Laurie has dedicated as much of her time, heart and faith as she possibly could to raising her child.  When you talk to her, you can feel the warmth and love in her voice, especially when she speaks about her son Jordan.
Laurie is a former Marine living in Northern Virginia with her husband and family. Here, Jordan grew a love for classic cars and working with his hands and eventually began college. It was also here that the grips of addiction swiftly and completely took hold of Jordan.
Heroin transformed Laurie's son and her family.  Jordan burned a lot of bridges
"I thought I was helping him get through daily living by ensuring he had money for food and a roof over his head," Laurie said. "It wasn't until his first short stay in the hospital that I realized just how serious the situation was."
Laurie was exhausted and confused. She researched residential treatment programs and called her insurance company, but they wouldn't pay. She and her family couldn't afford it on their own. Laurie tried tough love and told Jordan he couldn't come home any more.
Jordan attempted suicide in April 2015. The Spotsylvania Regional Medical Center found Jordan that day and recommended The Healing Place (THP). After being discharged, someone from THP picked him up and drove him to Richmond.
"Jordan made a quick call when he was discharged and told me he was on his way to THP," Laurie said. "He didn't know much about it, but knew it was going to help him and it was going to be a long process."
Laurie didn't hear from Jordan for 3 weeks. When he did call, Laurie could already hear the transformation in his voice.  She made the trip to visit him a few weeks later.
"Once I saw him and he gave me a hug and a kiss on the cheek, I knew everything would be okay," Laurie said. "Jordan hadn't given me a hug or a kiss in 3 or 4 years."
Jordan is four months into the program at THP. It is challenging and he struggles emotionally, physically, and mentally. Laurie says Jordan ensures her through words of conviction and confirmation that he never wants to relive the life he was living prior to THP.
Laurie now visits Jordan almost every Saturday. She drives down early in the morning, and picks up Jordan along with 6, 7, and sometimes 12 other men from THP to attend AA meetings.  Some of the men even call Laurie "Mom."
"I have my son back, maybe not 100%, but he is a new man, with new goals, and an unobstructed view on life," Laurie said.
Jordan has taken on a role as a mentor in the program, encouraging other men and helping new clients feel welcome. He only has a few classes left to finish his Associate's degree and is now considering earning his Substance Abuse Counseling Certification so he can work as an assistant while completing his Bachelor's degree, possibly in Psychology. and applying for a non-assistant Certification.
"This organization has not only given my son his life back, but it has given me my son back," Laurie said.