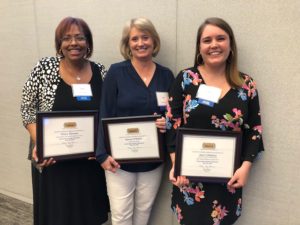 Diana Thomas's positivity is infectious. She supports women and families staying in the CARITAS Shelter overnight. She herself once was a guest in the CARITAS Shelter.
"Diana uses her experiences to connect with the clients in a deep and meaningful way," said Director of Shelter Operations Anna Hardin. "Her empathy and compassion for others are inspiring to our team, our volunteers, and our clients."
Diana recently received the Steve Neathery Award during Homeward's annual Regional Conference on Best Practices to Prevent and End Homelessness.  Diana and her four children fled a domestic violence experience and found safety and transition at the CARITAS Family Focus Shelter. Her partner had begun doing drugs and became violent.
"I learned to love myself and took myself and my kids from that environment," she said.
She entered the Shelter in 2014. During this time, Diana worked on finishing her education and completing job readiness programs. The CARITAS Shelter staff helped get her children to school during the process. She found permanent housing in July 2015. She filled her new home with essential items from the Furniture Bank to get a strong start.  She has been providing a stable home for her children ever since.
"The shelter allowed me to get stability back in my children's life," she said.
In 2017,  Diana joined CARITAS to work in the overnight shelter as a shelter monitor.
"I know I'm one of your success stories," she said. "I'm glad I'll be there to encourage and inspire the other ladies who come through our program."

Her empathy and experiences have touched hundreds clients already. Shelter clients say that "Diana treats us with respect and dignity."
"Diana makes her coworkers, clients and shelter volunteers feel that they have worth and that they are where they are meant to be at this time," Anna said.  
Diana is attending college while working as an overnight staff member. She also uses her past experiences to speak to community partners and explain how our family of programs transform lives and the community. Diana embodies the transformational power of CARITAS's programs. Not only do CARITAS staff and volunteers help our neighbors find a pathway from crisis to stability, but former clients like Diana often end up giving back to the community themselves.