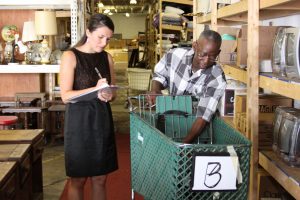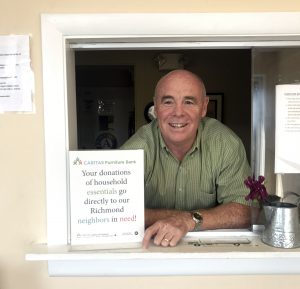 "It's very hard to stop volunteering when you see the need," Ginger Bomar said. She is a two-year volunteer shopper veteran.
"Most of the people are so grateful for that service, that's very affirming when you see their personal reaction."
About 30 people shop at the Furniture Bank on Tuesday, Wednesday, and Thursday mornings each week. Gary Smith, Furniture Bank AmeriCorps service member, greets each one with a smile from his desk. The clients who shop with CARITAS often need a smile.
Who do we help at the Furniture Bank?
The Furniture Bank offers gently used furniture to community members who are homeless, coming out of homelessness, or at-risk for homelessness. Families and individuals are referred to the Furniture Bank by one of more than 100 agencies in the Richmond area. Red Cross, Virginia Supportive Housing, and Home Again are a few of the agencies that CARITAS partners with to help improve lives.
Each person or family has a case manager from the agency who has visited the shoppers at their new home to help determine their needs. Many are getting back on their feet after experiences with domestic violence, substance use, refugee camps, and other housing crises.
"It's not uncommon for people to come in sleeping on air mattresses, sleeping in their cars, or on the floor," Gary said.
Ginger said that almost all of the people she sees "literally have nothing, and are finding living space for maybe the first time in a long time."
How does it work?
Once referred to CARITAS, our staff members schedule a shopping appointment. During these shopping appointments, volunteers like Ginger escort clients through the Furniture Bank show room. Our volunteers make help each client design their new home and life during these shopping appointments.
Based on the case manager's notes, CARITAS shoppers have a list of items each client needs, depending on family members and special requirements. Clients aren't limited to the list on the clipboard, though. As they go through the warehouse, they can choose other available items that may not have come to mind.
After selecting a set of towels, pots and pans, a kitchen table, lamps, couches, throw pillows, silverware, organizational items, and other household essentials, shoppers may elect to have the items delivered or fill up their own vehicle to bring them home. Our warehouse team members can deliver the client's new items on the same day.
"Our guys out there in the warehouse are really sweet," Furniture Bank Program Manager Sandy Morris said. "We could not do what we do without them."
Filling Homes with hope for nearly a decade
"I want to exceed all our clients' expectations," Sandy said. "After shopping, our clients fill out a survey. 98% felt they were treated with respect…that's the CARITAS way."
On a Wednesday morning, she sat in her office full of inspirational quotes and shared the history of the Furniture Bank. The program began in 2008 thanks to the compassion of a former shelter volunteer. Since then, CARITAS has expanded its reach across Richmond, Henrico, and Chesterfield. During the 2016-2017 fiscal year, the Furniture Bank partnered with about 100 agencies to help furnish 892 houses.
The CARITAS Furniture Bank is the only resource of its kind in Central Virginia. We receive donations of gently-used furniture and household goods from generous community members like you.