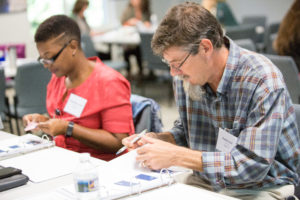 Stephen Vicoli entered The Healing Place in 2012. He completed the recovery program and then became one of the first graduates from the CARITAS Works program. Today, he's the Transition Coordinator of The Healing Place.
"I help assist the men in moving toward independent living after they've found the tools to maintain their sobriety," he says.
From managing money to dealing with family, the transitional component of the program is essential to long-term sobriety and success. At any given time, Stephen works with a number of our more than 800 alumni of The Healing Place program. Stephen and other staff members help men build strong support systems, which are vital for life-long sobriety. The Healing Place program builds a community within the program and hosts regular events for participants once they have left the program. The Alumni Association is active and growing.
"We make sure they have a safe environment to make mistakes and learn from those mistakes so they can become independent and successful," he says.
Stephen's passion for his work at CARITAS, The Healing Place and the community at large recently earned him a scholarship to attend the Emerging Nonprofit Leaders Program.  He has joined the 12th cohort for the 2018-2019 year. The program is a nine-month experience for the next generation of nonprofit leaders in the metro Richmond area. Participants like Stephen can foster a deeper understanding of their leadership capacity, advance their understanding and practice of leading in the nonprofit sector, and strengthen their network of nonprofit colleagues.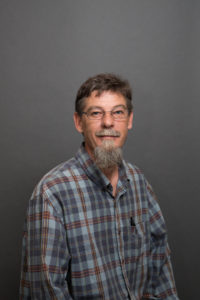 "Stephen was selected by a panel of ENLP alumni because of his dedication to the sector, passion for his work, and the future contributions he can continue to make the nonprofit sector," says Eleanor Jones, Community Engagement Officer with Community Foundation.
Stephen was awarded The James E. Ukrop Emerging Nonprofit Leaders Scholarship, sponsored by Local Initiatives Support Corporation (LISC) and the Virginia Housing Development Authority (VHDA).  The scholarship will cover the tuition of the program. Stephen joins a cadre of over 200 talented leaders who have been through the ENLP program and will be the fifth CARITAS staff member to go through the ENLP class. Furniture Bank Program Manager Sandy Morris, Director of Community Outreach Tiffany Terry, Senior Case Manager Carolyn Leung and former staff member Tom Bannard have all participated in the ENLP
He began classes on October 18. He says he's especially looking forward to making connecting through the class.
"Some of the people in my class  are all resources that I can use in the future with Healing Place participants that I come across who need specific help," he says.