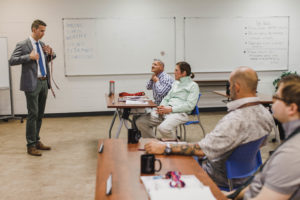 After much anticipation, a new grocery store is coming to 25th Street and Nine Mile Road. It will fill voids in the local community in a number of ways, including the need for long-term, large-scale employment. While The Market at 25th is currently under construction and slated to open March 2019, a new workforce development partnership will launch on Monday, November 5th between CARITAS and The Market at 25th's 50 newly-hired Team Members.
"Our overall goal is to create connectivity and provide education and resources so people can start with a job and move into a career," says CARITAS Works Program Manager Marilyn Milio.
CARITAS Works will offer a special 8-week training to employees recruited by The Market at 25th. Nearly 500 people applied to work at the grocery store through a partnership with The Office of Community Wealth Building. The Market has offered positions to people who have the greatest barriers to employment, a specific client base that CARITAS Works is designed to engage.
"In order for The Market at 25th to have a positive economic impact on the community, it's important to not only provide fresh, affordable food, but also to provide  jobs," says Kristen Rabourdin. "With the CARITAS Works partnership, we are hoping to change the employment status for those who are habitually unemployed and to help them on a path of success."
At the end of the training, the employees will also have access to the 2-year After Works program at CARITAS, which offers ongoing professional training and employment resources. More than 600 students have completed the workforce development program. More than 90% are employed a month after completing the program.
"When I met Karen and Marilyn with CARITAS and observed some classes, I knew it would be a perfect partnership to help achieve our goal of hiring locals," says Norm Gold, Developer and Operator, The Market @ 25th. "Personally, I will be happy if our new hires work in the store for 6 months, then move on to another successful career.  We could then train and hire others and give them the same skills to be self sufficient and successful."

"We teach men and women how to use their skills to create positive support systems, to create economic stability and to create a stronger family," says Milio.
Learn more about The Market at 25th at www.themarketat25th.com.