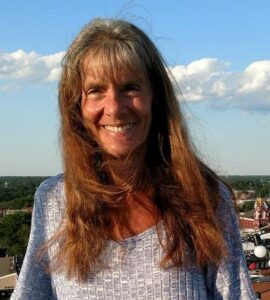 Vicki Mollenauer has been a mainstay in the hallways of CARITAS buildings for more than 6 years. Her story begins with her own struggle with addiction. Today, she is a leader at CARITAS and in the Richmond community as our Career Development Senior Coordinator. 
The past year has been a challenge for the Works team, but they've triumphed nonetheless. During the height of the pandemic, Vicki says the Works Program persevered. 
"Connecting and learning in person is so powerful and effective," she says. "When we couldn't teach classes or volunteers couldn't conduct interviews in person, we made it work with Google Meet, which allowed us to focus on skills in other ways like learning how to conduct effective virtual interviews with potential employers."
Despite the roadblocks during the past year, 88% of CARITAS Works students found employment once they had completed the Works 5-week workforce development program. During the same time, Vicki also assisted in the launch of a successful, abbreviated Works program for residents in both the CARITAS Emergency Shelter and the CARITAS Recovery Residences. 
"I love what I do at CARITAS; it's really such a positive environment and each person we work with becomes a part of our family," says Vicki. "I'm also grateful when sharing my own story of rock bottom to recovery can help others who are struggling." 
Vicki was born in Evanston, Illinois, but moved to Los Angeles, California when she was two. Most of her childhood was spent in Vienna, VA where her family moved when she was eight. 
"On the surface, it appeared that we were the perfect, church-going family," she says, "But with an alcoholic father and a bipolar mother, life at home was anything but perfect for my parents, me, and my three younger sisters."
Vicki stayed close to home, took care of her three sisters, and kept to herself until she made it to college. Here, she says, is when alcohol began its slow assault on her life. 
"I could be someone else when I drank," she says. "I felt free, I finally made friends, and in my Junior year, I became the Junior Class Homecoming Princess. Alcohol took away the need to be perfect, so I reveled in it."
Once she graduated from college and began her teaching career, her drinking slowed down, but even when she thinks about dates with her future husband who did not drink, she says, "I would drink until I was drunk before he even picked me up for a date; I should have known then it was a problem."
After getting married, Vicki was able to stop drinking during her pregnancy with her son, but started back again shortly after his birth. She stopped again when she discovered she was pregnant with her daughter, but asked for champagne to be brought to the hospital to celebrate her birth and drank the entire bottle herself right there in the hospital bed. 
"You would have thought that the death of my sister from complications due to her own struggles with addiction during this same time period would have startled me awake to my own spiraling addiction, but instead I used her death as an excuse to drink more."
Vicki stayed at home to raise her children, took care of three other neighborhood children and tutored in the afternoons after her children were born.
"I was drinking during the day and hiding it pretty well for years," she says.
One day, however, her husband came home early, found her drunk with the children, and called all the parents.  
"At this point, we both knew our marriage was over, and my drinking didn't get better once I moved out," she says.
Several drunk in public and theft (of wine) charges led Vicki to spend time in several area jails as well as a stint at Central State. She bounced between a boyfriend's home, several motels, short-term recovery programs, spent time living on the streets, and eventually ended up in a friend's trailer. 
"I accepted this life," she says. "I was going to stay on the floor of this trailer, sipping wine from the straw of a Big Gulp cup 24/7 until she kicked me out… then one day my friend woke me up to say that I had one hour to make a choice as to whether I wanted to live or die."
Vicki decided she wanted to live. October 14, 1998 was the last day she had a drink. A counselor from The Daily Planet picked her up and took her to MCV where she spent 6 days in detox before entering a long-term treatment program at Rubicon. Her ex-husband brought her children to commencement of the program, she got back to teaching again as the Educational Director at The Virginia Fire and Police Museum, took on a second job, and eventually Vicki saved up enough to buy a house which she renovated.  
"I felt like I was renovating myself as I renovated my house, and it really helped me to stay focused on working my program of sobriety." 
During this time, she began the work necessary to rebuild her relationship with her children, and her ex-husband remained supportive. 
Over the next several years, Vicki ran her own construction business, then returned to teaching when she was hired by the YMCA Preschool. When the preschool program ended, she decided to take some time off to look for a job she could feel passionate about. She had known Marilyn Milio, the CARITAS Works Program Director, for many years and started volunteering in the Works Program during her job search. So, when the job as Career Development Coordinator at CARITAS became available, she knew this was the job she wanted.
"I realized, oh my gosh this is exactly what I've been looking for," she says. "I can be myself, my criminal past wouldn't haunt me during the interview, I can share my story of recovery, and I can teach."
Vicki joined the CARITAS team March 27, 2015 and says it was the "best birthday present ever."
At CARITAS, we know stories of experience, strength, and hope can transform people who find themselves in crisis. Vicki joins a team of CARITAS employees who share their own histories of rock bottoms and triumphs. We're proud to have Vicki on our staff helping bring people like her to the careers they love, too. 
Learn more about CARITAS Works. 
Donate to support our workforce development program.