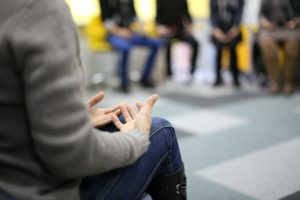 Years ago, Jen Frydrychowski volunteered to help CARITAS shelter guests at her congregation. For two weeks every holiday season, her church would open its doors to men and women experiencing homelessness in our community. She got to know our residents intimately.
"If you walked by most of CARITAS clients in a store, you wouldn't know they were homeless," she says. "These women are mothers who are missing their children. They're daughters grieving the loss of their mothers. They are our mothers and our daughters. They're just like us."
Today, with the help of VCU Health Systems and its Partnership Fund, Jen has a new full-time role as a behavioral health clinician with Daily Planet Health Services working at CARITAS. Specifically, she's helping women access behavioral health services in our emergency shelter in partnership with Daily Planet Health Services. She provides individual counseling and psycho-educational group therapy on site, and makes referrals to psychiatry and Medication Assisted Treatment at Daily Planet when appropriate for our residents.
"My favorite part of the day is meeting with the women in our group," she says.
Beginning in August, Jen began leading a mental health group every weekday. It is open to any current or former CARITAS shelter residents. She leads discussions about a broad spectrum of psycho-educational topics including communication skills, self care, trauma, coping, emotional regulation, self esteem, relationships and more. She's also integrated music therapy, yoga, and art in partnership with other organizations who specialize in these services.
"It's both therapeutic and preventative," she says. "We want our clients to be able to access the mental health care they need and prevent any issues from becoming unnecessarily exacerbated by their situation."
Mental health is a common challenge unsheltered men and women face. It is especially prevalent for women. According to the California Policy Lab October 2019 report, 50% of unsheltered people reported that mental health contributed to their loss of housing. Significant numbers reported that abuse and trauma led to a loss of housing. Those numbers are higher among women.
"Good mental health is a strong foundation on which we build our lives and which supports our success in housing, in relationships, and in work," Jen says.
The findings of the report reinforce the importance of stable housing as a social determinant of health and a crucial solution to ending homelessness. At CARITAS, we're working with our partners in the Greater Richmond Continuum of Care to end homelessness in our community. We are the largest adult emergency shelter in the area, providing 50% of the beds to men and women experiencing homelessness. We not only provide a safe and supportive environment, but our case managers help residents apply for jobs, secure documentation, find stable housing and, now, access behavioral health care.
"We can define early success with this work as the women reflect back that they know this is a safe space for them and they feel they are seen and heard beyond this label they are carrying," Jen says. "If we can continue to offer this support, perpetuate the positivity, and work to ensure that they know their own worth, they will be better equipped to go after what they deserve in their lives."
In addition, the increased access to behavioral health services will expedite the pathway to housing, and reduce the amount of time spent in the system. Additionally those with a substance use disorder will increase their connectivity to the community at CARITAS. In 2020, we'll expand our services to women who are struggling with substance use in the CARITAS Center.
"I'm so excited about The Healing Place for Women," Jen says. "Our community has been in need of that for a long time. It will be life-saving."
In the new residential recovery program for women, CARITAS will apply its expertise working with men at The Healing Place since 2005. The need for these services for women is growing. While the number of men who overdose remains higher than that of women, the rate of increase since 2010 is much higher for women: 237% for men and 400% for women.
We're already working to integrate behavioral health and trauma-informed practices within the walls of the long-term recovery program in partnership with Daily Planet Health Services. We'll share more about this work in a forthcoming piece in this series about mental health.