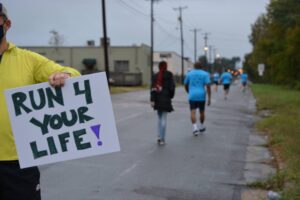 Talk about heart! This February, approximately 20 of our recovery program participants are training for the Ukrop's Monument Avenue 10k. Running and walking alongside them will be 15+ volunteer coaches from throughout the Richmond community. One of those is Sara Sitkiewicz who has led the training team efforts for the past 10 years. 
"We coaches come back year after year because we get back what we put in," she says. "The men have given us so much inspiration because of what they are doing with their lives and this year we get to welcome women into the fold as we train."
Coaches like Sara encourage the participants, offer running advice, and help them reach their goals. As participants train at the same time they are working through The Healing Place (THP) program, they find renewed hope and confidence as they achieve new goals.
"For the first time in a long time, it was something I could hang my hat on, that I actually committed myself to and completed," THP Alumnus Todd Weatherless said.
Participation in the training program offers recovery residents the positive experience of training, teamwork, perseverance, and achievement.  Much like training for a race, our recovery program compels men and women to practice changing bad habits, setting short and long-term goals, and overcoming obstacles.  Program alumni like Todd often return as running coaches themselves. This year, at least three THP alumni will be running alongside current THP participants as they prepare for the April 23 race. 
Coaches and participants are not alone. SportsBakers has sponsored CARITAS program participant entries each year and will do the same for the 2022 race. In addition, Shood and FleetFeet will work with participants to ensure they have shoes that can get them across the finish line.
It all started in 2012 when former board member Stevie McFadden started the first 10k training team. This year is special because we are welcoming women for the first time to the training team. The Healing Place for Women opened December 2020 in the CARITAS Center3. In 2021, 189 women entered the doors of the residential recovery program. The men's program welcomed 576 men during the same year.
This year is also special because the 10k returns to Richmond in its true form since the start of the pandemic. During the past two years, the team has trained and completed the 10k on their own.
"We're all just so excited and hope we can share the message of this unique program along the way," Sara says.
How to Get Involved
The first training takes place on February 12 at 7:30 a.m. at 700 Dinwiddie Avenue. We'll start with one mile. Weekly training will take place at the same time and date every Saturday until the race. We'll host a tour on February 26th after the 3-mile run that day! At 8:30 a.m., head to the CARITAS Center at 2220 Stockton Street. We will have coffee and water available! We'll show you how our life-changing programs work here.
We are looking for coaches and volunteers to take on these specific volunteer opportunities:
Create routes for training runs and walks
A driver to pick up women from The CARITAS Center on Saturdays at 7:15 a.m.
Create pre-run warm-up & post-run stretching program
T-Shirts – take the lead in working with Custom Ink to produce our team shirt
Race Day Coordinator – get all the men and women to and from the race
SAG stops & post-run food social (2-3 dates)
Become a running or walking coach or recruit friends
Financial contribution to The Healing Place or CARITAS
Please contact Sara Sitkiewicz at 804-539-9253 or sara.sitkiewicz@gmail.com to sign up for the February 19 tour, to ask questions you have about the coaching opportunity, and sign on to help lead our men on their road to recovery!
Read More
Read and watch features about our 10k team in the Richmond Times-Dispatch and Channel 6.