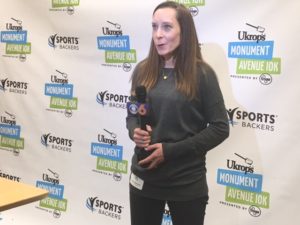 The road to recovery is a hard one. It takes dedication, failure, and focus. Richmond area men struggling with substance use disorders know this well. Behind the walls of The Healing Place, 200+ men at a time are working toward a life of sobriety. Much like training for a race, men practice changing bad habits, setting short and long-term goals and overcoming obstacles. As the face of addiction and recovery continues to change locally and nationally, one small group of Richmond area volunteers has found hope in a simple activity: running. These volunteers work together to introduce running to some of the program's participants and it has become a critical component on their road to recovery.  
It all started in 2012  when Richmond resident Stevie Toepke started a 10k training team at The Healing Place. Stevie recruited Richmond area runners to act as "coaches" for men involved in The Healing Place recovery program. The goal was to help them train to participate in the annual Ukrop's Monument  Avenue 10K during their journey to recovery.  Since then, The Healing Place and this dedicated group of volunteers have never looked back. Participation in the training program provides men in The Healing Place with the positive experience of training, teamwork, perseverance, and achievement.  Men also find renewed hope and confidence as they achieve new goals and transform thanks to the life-changing work of The Healing Place.
Today, Sara Sitkiewicz leads the training team efforts at The Healing Place. She has been long-time volunteer of CARITAS, starting in 2013,when she first became a coach. As a coach, she showed up every Saturday morning to run alongside men who signed up to train. She encouraged them, offered running advice, and gave them hope. One of those men included Todd Weatherless. Todd is an alumnus of The Healing Place. He has participated in the 10k training team since 2013 and worked with Sara and other coaches. Today he is a coach himself! Sara and Todd were both recently interviewed by CBS 6, so be on the look out for their stories!
Sara, Todd and other coaches have kicked off this year's efforts as she begins to recruit coaches and volunteers to support the effort. She's joined by some veteran "coaches" and also THP alumni like Todd Weatherless.
How to Get Involved
The first training takes place on February 3 at 7:30 a.m. at The Healing Place (700 Dinwiddie Avenue). Weekly training will take place at the same time and date every Saturday until the race. The coaches will provide mid-week running routes and goals to keep the men on track. 
 We are looking for coaches and volunteers to take on these specific volunteer opportunities:
Create routes for training runs and walks
Create pre-run warm-up & post-run stretching program
T-Shirts – take the lead in working with Custom Ink to produce our team shirt
Race Day Coordinator – get all the men to and from the race
SAG stops & post-run food social (2-3 dates)
Become a running or walking coach or recruit friends
Collect or donate new or gently used clothing
Financial contribution to The Healing Place or CARITAS
If you'd like to learn more about The Healing Place and CARITAS, we'll also host a tour of The Healing Place on February 10 after that week's run.
Please contact Sara Sitkiewicz at 804-539-9253 or sara.sitkiewicz@gmail.com to RSVP for the February 10 tour, ask questions you have about the coaching opportunity, and sign on to help lead our men on their road to recovery!