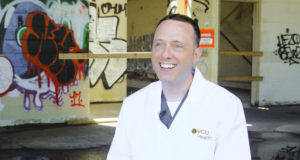 Meet Peter Moffett MD, FACEP
Associate Program Director, Assistant Professor at Virginia Commonwealth University
There are roughly 1,500 overdose deaths in Virginia every year.  Related to each death, there are ER visits, treatment and impacts in the workplaces where these men and women work. The medical costs to individuals and the community at large are tremendous. Physicians like Dr. Peter Moffett know this well.
In the ER, he sees our neighbors in need on their worst days. Not a day goes by during his shift where he doesn't see the impacts of addiction. He regularly helps men find their way to The Healing Place and is looking forward to referring women when the new CARITAS Center is open. We sat down with Dr. Moffett to ask a few question about his work  in partnership with CARITAS and The Healing Place.
CARITAS:  As a doctor, how do you encounter substance use in the hospital?
Dr. Moffett: We see a lot of tragedy. I see patients on their worst days, especially when it comes to alcohol and drugs. When patients come to us looking for recovery and rehabilitation, they are at a vulnerable spot. It's distressing when you can't offer a patient options for what they need. With The Healing Place, we have an option for men who need long-term help.
CARITAS: How has the opiate epidemic shaped what you see in the emergency room?
Dr. Moffett: Every shift we see someone affected by the opiate crisis. If they aren't suffering themselves, then its a family or friend who is looking for options for their loved ones. Though there is an increase in opiate use, which has come with national attention, we see the full spectrum here: alcohol, opiates, Benzodiazepines, cocaine, and multi substances.  Substance use will never go away. So long as people have problems, we'll always need places for patients to help them get off the substances and recover parts of their lives that have been destroyed by it.
CARITAS: How do you refer patients to The Healing Place?
Dr. Moffett: Many already know about The Healing Place, we just help lead them there. With others, we are able to share more information about the program and determine if they are a good fit. We've been over to the building and understand how it works, what's available to participants, and more. We can answer their questions if they have them. If they decide it's what they want to do, we make sure they are medically safe to join the recovery program. We let the patient know that if he ever needs medical help related to his or her withdrawal, The Healing Place can refer them right back here.
CARITAS: Why do you refer patients to The Healing Place?
Dr. Moffett:  We see a lot of patients who come to the emergency department who want help. There are not a lot of places to go if you don't have resources. Medical facilities are a great start for initial care, but many need a long-term program that helps keep them off of substances and reintegrates them back into a life that involves their family, an improved home situation, and employment.
CARITAS: The Healing Place is one of four programs at CARITAS. Many of the men who go through The Healing Place have access to its other programs like CARITAS Works, which prepares participants for employment.
Dr. Moffett:  I am an emergency physician. I see people on their worst days. I never get to see them on their best days. I know CARITAS empowers the patients we send to The Healing Place to build bright futures. I can actually see this partnership at work with the Quick Start Construction Training program, which puts men to work with local contractors, often on jobs for VCU or VCU Health System, after they've gone through the CARITAS workforce development program. They're giving back to the community because of this important work.