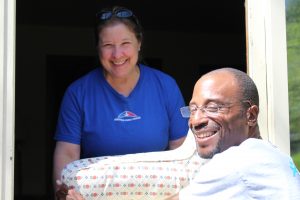 On a sunny spring morning on the southside of Richmond, a CARITAS truck sits outside of a beautiful home. You can hear rustling inside and see a stack of boxes laying on the driveway. Soon, two men come outside carrying a large couch. They are part of the CARITAS Solutions team on site to help Kay Bonds with a very heavy problem.
When Bond's mother-in-law passed away, she wasn't sure what she and her husband would do about her large home and all the furniture inside. She heard about CARITAS and our moving, hauling and clean-out services via a friend at her congregation.
When she called, Furniture Bank Procurement Manager Michael Gordon asked her questions about the home, what she thought she could donate, and more. He walked her through the clean-out process, provided advice, determined a cost for the clean-out job, and set a date for the move. She could have also started by filling out the easy online form.
"Everyone has been wonderful to work with," Kay said. "They were able to schedule a clean-out within two weeks of my call during a time that worked well for me."
Four CARITAS Solutions team members helped Kay solve problems and remove the heaviest of items from her home with ease. Once they filled up a truck, she was provided a receipt for her donations so she and her family could receive a tax deduction.
Kay is one of many customers who have hired the CARITAS Solutions team who specialize in local and unusual moving, hauling, clean-outs and disposals. Our quick, efficient and friendly team can help you:
Clean out your home after you downsize, move, or sell.
Move from home to home in the Metro Richmond area. You pack the boxes, we provide the man power.
Dispose of junk, broken items, electronics and more.
Haul just about anything from Point A to Point B within a 100-mile radius.
The men and women who will serve you are gaining vital transitional employment and professional training. Many of them have graduated from our CARITAS Works and The Healing Place programs.  The quality of their work is monitored and reviewed by full-time CARITAS staff members who have experience leading complex businesses and logistics.
"It was a huge time saver and the price was definitely right," Kay said. "I would highly recommend it."