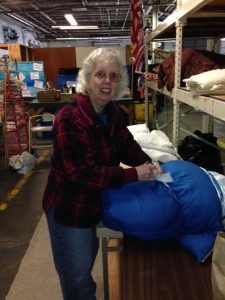 "Called to Serve"
Sue Gravino is much more than a weekly volunteer at the CARITAS Furniture Bank.
Sue has a master's degree in speech pathology. She has dedicated her life to helping others in various capacities. Sue has taught many different age groups and subjects and has a passion for both global and local missions.
She went on her first mission trip to Kenya in 1991 and was there for three years teaching in a Missionary Kids School in Nairobi. Since her retirement from teaching in 2009, she lives what she describes as a "volunteer life." In addition to donating her time to CARITAS, Sue also sorts at a thrift store, does bookkeeping for a mission in Kenya, serves as a member of her church's Board of Directors, and more.
When asked why volunteer work was important to her, she said "The Lord gave me everything, so I want to give back."  
Sue was introduced to CARITAS three years ago through a volunteer group from her church,
West End Assembly of God
.  As a volunteer donation sorter at the
Furniture Bank
, Sue goes the extra mile to help those she has never even met. She makes sure to tie the sheet packs that are given to the clients for their new beds with bows "because they are gifts from God."
When she began her journey of serving others, she prayed that wherever she went, she could be a teacher to others. She is certainly accomplishing that here at CARITAS, as she models grace and servant leadership for new volunteers, staff and clients building a new life.
Thank you, Sue, for answering your call to serve!
We want to hear your volunteer stories. Please share your CARITAS volunteer stories with us by sending an email to Tiffany Terry at thall@caritasva.org.