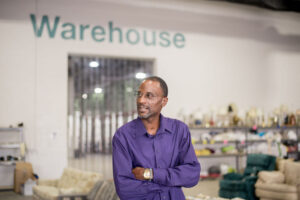 From the moment a donation is received to the moment it lands in the home of one of our neighbors in need, there is an intricate web of logistics that unfolds at CARITAS. Every day, trucks are fueled with gas, dishes are sorted, partner agencies refer clients, and the showroom is restocked. Behind the scenes is Michael Gordon. 
"My father served in the military for 30 years. Eventually, we moved to Tidewater into an area full of poverty, drugs, and crime. I began to make bad decisions and use drugs during my late teens, catching my first drug charge in 1990. It woke me up. I went back to school, did well, and got a job.  Tragically a fire destroyed our home and my family lost everything. I struggled and returned to the drug scene. That led to two more drug charges and a 15-year sentence. I served two and a half years and came home to take care of my daughter and son. Finding a job without a high school diploma or GED was hard–my first paycheck was $122. Drugs became an escape. 
I was shot in 1999 and had to learn how to walk and talk again, but I still couldn't beat my addiction. In 2008, I bumped into an old friend who looked really good. He had been to The Healing Place in Richmond. He told me I could get the same help and it was free. He drove me there… and the program worked. 
After I completed the recovery program, I worked at another nonprofit for two years. A CARITAS Furniture Bank position opened in 2012 and I got the job. I've grown professionally and personally for the last nine years, and every day I get to live in recovery and help people in need."