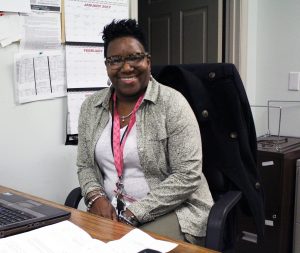 "I love coming here every day," said Crystal Lester. "It always feels like family."
Crystal is an AmeriCorps Service Member at The Healing Place. As a case manager, she helps men in the Overnight Shelter quickly connect to resources including housing, jobs, and more. She recently earned her Associate's Degree with the help of her AmeriCorps service educational award.
CARITAS is an AmeriCorps site and an Employer of National Service Members. AmeriCorps is a national service movement that engages people in service to address critical problems.  In exchange for a specified term of service, AmeriCorps members earn a living allowance as well as an educational award to pay back qualified student loans or to finance college. 
"I have grown a lot during my time at CARITAS," she said.
Crystal began working at CARITAS in September 2014 in The Healing Place's Sobering Up Center. She wanted to find a place to make a difference while going to school after overcoming her own addiction.
Crystal was working towards earning her Associate's Degree in Human Services and a certificate in substance abuse counseling at J. Sargeant Reynolds Community College. At the Healing Place, she began gaining valuable experience toward her career goals. When the opportunity came to interview for an AmeriCorps position during the fall of 2015, she knew it was perfect timing.
"I was still able to make a little money, go to school and do what I needed to do," Crystal said.
Crystal keeps her door open at The Healing Place. She looks forward to talking to the men and offering an understanding ear.

"Anything I can do to help them, I do," she said. "I can understand them because of what I went through. I also understand the system. Everything is not going to happen overnight. You have to be patient with both the men and the process."
One of her favorite stories is about an older man who came to The Healing Place's Overnight Shelter after being released from serving a 20-year sentence in prison. His very first stop was The Healing Place.
"He had no one," Crystal said. "He had no resources. I was ready to put some work in when he came here."
Crystal helped him fill out his application for social security and helped him find affordable housing. Within a month's time, he had a check come in, had his food stamp card, and a week after that, they got news about a house. Crystal still keeps in touch with him and he still lives in the same place.
Crystal just began a full-time AmeriCorps service contract. She's excited about the opportunity and will continue to fulfill the remainder of her AmeriCorps service at CARITAS.
We are so grateful to be a part of your journey, Crystal! Thank you for your service to our community.