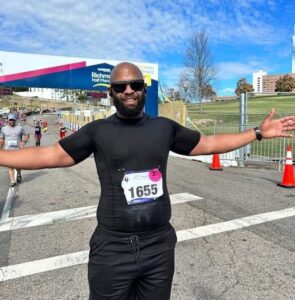 David has crisscrossed the United States during his life, propelled by gut-wrenching stories of trauma, loss, and addiction.
"Today, I look forward to talking to other men like me who are down and out," he says. "I didn't think I would make it at one point, but now I know I can and others can, too."
David recently commenced from CARITAS Works, one of the final phases of CARITAS's residential recovery program known as The Healing Place. He is working and getting ready to graduate from the Intro to Construction Class presented by the Community College Workforce Alliance.
The program began welcoming men struggling with substance use disorder in 2015. In 2020, the first women walked through the doors of the program. Many of them will be honored during the 2022 Annual Alumni Ceremony on September 22 when hundreds of past participants join together to receive silver chips to celebrate another year of sobriety. As some men return after more than a decade of sobriety, they'll tell you recovery is not a sprint, it's a marathon. David will agree. 
David grew up in north central Pennsylvania, near an area known for its Amish villages and residents. Until he graduated from high school, David had barely had a few drinks of alcohol. Despite a traumatic history of sexual abuse, he graduated top of his class and set his sights on college where he wanted to study to be an English teacher. In college, he continued with a clean record until series of events led down him a path of self-destruction. David turned to drugs and crime to cope.
Over the next decade, he joined the military, was charged with grand theft auto, moved in and out of romantic relationships, lived in Vegas, tried crystal meth and heroin, attempted closure about his childhood abuse, and even made plans to move to Hawaii. Several times along the way, David also made plans to take his life. When all else failed him, he turned to the outdoors. 
"I started to run to get out and clear my head," he said. "It was a form of meditation for me and I loved being outdoors. I found peace in the pain of running and hiking."
Eventually, David's journey took him to the Appalachian Trail in New York. Without a plan and little hope, he set out on a trek south.
"I was broken," he says. "I walked all the way from New York living thistle roots and unfiltered water."
Underweight and unhealthy, David found his way to a hospital in Salem, Virginia. The following string of events out him on a path to Richmond and The Healing Place. 
"I had relapsed so many times I didn't think the program would work," David says.
The community aspect of the recovery program is what really stuck with David. 
"I had never had so many people say they cared about me and they loved me," he said. 
He felt the same level of support earlier this year when he signed up to train for the Monument Avenue 10k, a signature Richmond running event. For the past 10+ years, local runners and walkers have helped men and women in the CARITAS recovery program train for the 10k. You can read more about that story here. 
"I saw other alumni coming back to run with us and was able to see how far I could go with running and in life," he says.
This is the first year CARITAS has participants officially training for the Richmond Marathon. David is joined by two other recovery program participants, Sam and Da'Quan. Sportsbackers sponsored their entry fees into the training program and the race as the local organization has done for CARITAS participants taking on the Monument Avenue 10k.
The 2022 marathon is set for Saturday, November 12, in downtown Richmond, and also features the CarMax Richmond Half Marathon and Richmond 8k. Stay tuned as we follow along and share progress from The Healing Place!